Pure Excitement Comics is maintained by Bill Nolan.
Vol. 1 No. 38
October 2001


In This Issue:

Contents Page

Boy King

Four Comrades

The Cadet

Other issues!






Next Month:

Three great Golden Age stories!






Bill Nolan's
Other Pages:

CD-ROMs!
CD-ROMs featuring more great reprints! Buy them, please! (They're cheap!)

The Gallery of Golden Age Heroes!
A closer look at some great Golden Age characters!

Prescription
for Excitement!
A look at
classic "in-house"
comic book ads.

Home Page

Custom Action
Figure Page

[Return to Main Page]






Related Links:

Golden Years
A great site also featuring great on-line Golden Age reprint magazines!

Mort Meskin
An interesting site focusing on the great Golden Age artist.

goldcomics.com
A fantastic site featuring MLJ reprints.

Heroic Comics
Another great source for Golden Age reprints! Includes stories from nine of the first 12 issues of that great title.

AC Comics
Publisher of Golden Age Men of Mystery and more. Now with a great on-line store!

Golden Agers
A great affiliate Yahoo Club where Golden Age fans can get together on-line.

Big Shot
A great site focusing on that particular Golden Age title.

The Spirit
A great site dedicated to what was probably the best comic feature of the Golden Age!

Other Golden Age Reprints
James Ludwig's great Golden Age reprint site!

The Golden Age Heroes Directory
A great page developing profiles on all Golden Age heroes!

A Guide To Marvel's Golden Age Characters
A rundown of some of the great characters I cannot feature here.

The Good Guys and Gals of the Golden Age Art Gallery
A great "who's who" of Golden Age heroes.

MicroComics
Offering affordable Golden Age comics on microfiche.

Comcs on CD-ROM
Offering Golden Age covers and stories on affordable CD-ROMS. Highly recommended!

Mikel Midnight Golden Age Directory
A great on-line resource for Golden Age fans. Great links.

Captain Comics
Home of the weekly comic book columnist for the Scripps Howard News Service




Welcome to the Letters Page, everybody! Be sure to check back next month when I plan to kick it up a notch and start an uninterrupted run of 10 or so issues featuring heroes making their debut appearances in these pages. No Target and the Targeteers or other past favorites for a while! You'll have to be satisfied with the likes of the Twister, Sub-Zero, Doctor Frost, the Puppeteer, Twilight, Flamingo, Futureman, a decidely different Black Owl, and many more. But before that, we must take a look at some of the letters I received over the past month, in response to both issue 37 and the special Heroes of America benefit issue (be sure to check that out if you missed it):


Great job Bill! The perfect patriotic issue, and perfect for the situation. All of the stories were very good, but the first two really stood out. The election story in "The Flag" was by far my favorite, and struck a chord on two levels. This Nazi terrorism could have just as easily have been worked into a modern terrorist tale which works into the second level. I am very much interested in politics, and that helped keep my interest. Just imagine if this happened in a modern election! (And we thought "chads" and butterfly ballots were a headache!!!) The Unknown Soldier was uncanny to say the least! I wonder what the writer would say if he saw what has happened in the last week. A Nazi invasion of New York was strange enough, but I was shocked when they used our own planes against us! Just a little too close to home these days... Finally Capt. Couragous and Pat Patriot were both really good stories in their own right, but seemed slightly overshadowed.
Keep up the good work!

Steve

Steve, I'm glad the special Heroes of America issue was as well received as it was. I threw it together rather quickly, but I tried to pick stories which had a connection to America's current situation. Except for the Pat Patriot story, which I already had scanned for something else, but liked because it featured a female patriotic hero.

Dear Bill: I go to your site a lot and it makes me remember the golden age reprints in those DC 50 centers in the early 70's with Batman and Superman. I hope you print more obscure material. I love these old comics a lot and wish there were more of them on line.

Best, rrobot34

Thanks for your support. I hope you enjoy the coming months when I plan to feature some REALLY obscure heroes.

Hi Bill, I was very pleased with the special issue. It has been a rough couple of weeks. While I don't work at the Pentagon, my organization has an element there - we lost seven of them, including a couple I knew pretty well. The early reports told me we probably had casualties because I knew the area that was struck. One of my best friends survived unhurt, but the hours of uncertainty were especially hard. I found your special issue particularly appropriate - patriotism has been a little lacking from our society of late. Too bad it took an event like this to bring it back. But if we needed an example we certainly couldn't do better than Golden Age comics.
Thanks again Bill.

Best wishes, Dennis

Dennis, I'm glad my efforts were able to help you in some small way during this horrible time. I agree that it's been refreshing to see a return to patriotism in our society. I just hope it lasts a long, long time.

That's it for the letters page this month. Be sure to check back next month for three more great reprints!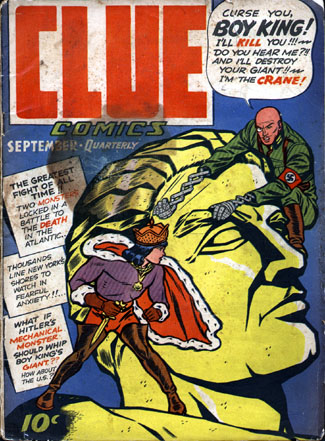 In the gallery this month is the cover of Clue Comics no. 5, the source of this month's Boy King tale.

Click to subscribe to Excitement Central
and receive notification by e-mail whenever this site is updated!