Pure Excitement Comics is maintained by Bill Nolan.
Vol. 1 No. 40
December 2001


In This Issue:

Contents Page

Sub-Zero

Flamingo

Power Nelson

Other issues!






Next Month:

Blue Bolt, Jackie Law & Mystico






Bill Nolan's
Other Pages:

CD-ROMs!
CD-ROMs featuring more great reprints! Buy them, please! (They're cheap!)

The Gallery of Golden Age Heroes!
A closer look at some great Golden Age characters!

Prescription
for Excitement!
A look at
classic "in-house"
comic book ads.

Home Page

Custom Action
Figure Page

[Return to Main Page]






Related Links:

Golden Years
A great site also featuring great on-line Golden Age reprint magazines!

The New Golden Agers
The new Delphi Forum for discussing Pure Excitement Comics and other related topics.

Mort Meskin
An interesting site focusing on the great Golden Age artist.

goldcomics.com
A fantastic site featuring MLJ reprints.

Heroic Comics
Another great source for Golden Age reprints! Includes stories from nine of the first 12 issues of that great title.

AC Comics
Publisher of Golden Age Men of Mystery and more. Now with a great on-line store!

Golden Agers
A great affiliate Yahoo Club where Golden Age fans can get together on-line.

Big Shot
A great site focusing on that particular Golden Age title.

The Spirit
A great site dedicated to what was probably the best comic feature of the Golden Age!

Other Golden Age Reprints
James Ludwig's great Golden Age reprint site!

The Golden Age Heroes Directory
A great page developing profiles on all Golden Age heroes!

A Guide To Marvel's Golden Age Characters
A rundown of some of the great characters I cannot feature here.

The Good Guys and Gals of the Golden Age Art Gallery
A great "who's who" of Golden Age heroes.

MicroComics
Offering affordable Golden Age comics on microfiche.

Comcs on CD-ROM
Offering Golden Age covers and stories on affordable CD-ROMS. Highly recommended!

Mikel Midnight Golden Age Directory
A great on-line resource for Golden Age fans. Great links.

Captain Comics
Home of the weekly comic book columnist for the Scripps Howard News Service




Welcome to the Letters Page, everybody! Before we get to the letters, I just want to take this chance to promote a new forum for Pure Excitement readers. There has been some talk lately that the Yahoo Clubs may be dropped in favor of Yahoo Groups at some point in the near future. In case that happens, I've started a new Golden Agers discussion forum over at Delphi. Click here to check it out. Both "Golden Agers" forums will continue as long as they exist. Here are some letters I received during the last month:


Bill, I've had a chance to at least scan all the CD's I got from you. Suffice it to say that I'm very satisfied. BTW, have you ever thought about doing a CD or set of CD's devoted exclusively to full-sized scans of the stories from your web site? (Sort of a "PEC Archives".) Just wondering. There's been quite a few stories that I'd love to see full-sized.

WTK

Glad to hear that you are enjoying the CD-ROMs. As for a PEC Archives series, you'll be glad to hear that I recently decided to concentrate on offering those as my next CD-ROMs. Each CD will contain 12 issues of Pure Excitement Comics, along with some bonus material, presented at much-higher quality. I need to rescan the stories from many of the early issues, so these CDs may not be available for a while.

PEC #39 was one of my favorite issues that you have done. I'm glad that you showed the Black Owl, I've been interested in the character for a long time, but never read much of him. As for your latest CD with the Target and Targeteers, excellent work. I've become a major fan of the three heroes. Thanks to CDs and web-site I've been able to read the adventures of Golden Age heroes that normaly I would never see because of either price or not being able to find them. Thanks for the wonderful site and CDs, I hope you never tire of doing both. You have a permanent fan and I look forward to seeing more CDs and future issues of P.E.C.

Richard J. Croxtom

Richard, thanks for the great letter! I plan to keep producing Pure Excitement Comics and my CD-ROMs as long as I have the materials and the time. The next couple of issues are already well on their way to completion, and I have a general idea of what I want to do through issue 50.

Hi, Bill: Loved 39 - also love the "new character" format. Twister was a new character for me - looks like he pre-dated DC's Red Tornado. Twilight I have developed a fondness for - mostly the parrot Snoopy - lots better than one of the kid sidekicks. Black Owl I had seen lots of time before but this was a new story - I rather like the ones that predate his run with Yank and Doodle. Also liked the villain.
I'm really looking forward to next month to see what surprises you throw our way. Keep up the good work.

Cheers, Dennis

Dennis, I hope you enjoyed the tales of Sub-Zero, Flamingo, and Power Nelson this issue. You can kind of see why there were only three Flamingo stories during the Golden Age, but the art was very interesting, especially for the time period. Power Nelson didn't really live up to his title as "Futureman," but I have read an earlier story or two of his which took place in the future. Obviously he traveled back in time to the 1940s at some point. Next month's threesome of Blue Bolt, Jackie Law, and Mystico should have a little something for everybody: a kid group, a standard superhero, and a Nedor magician. After that, you can expect to see Doctor Frost, the Puppeteer, and the Lynx. It's a guaranteed fun time for all!

Dear Bill: Just a note to let you know that I really liked the November issue of Pure Excitement Comics. It was great to see the original Black Owl in action even though he looked exactly the same costume-wise as his successor, the father of Yank and Doodle. Do you have any idea why he was called The Black Owl--besides the fact that his creators probably thought it was a cool name--when his costume was primarily red and blue? Was his original outfit black?
The Twilight story was terrific--very intriguing. I was really drawn into the tale, wondering about the motivation was behind Baby Face's generosity as well as the secret of his "little brother." Although I'm still a little hazy as to his motives--outside of revenge against society for past slights--I thought it was a good story. I do have another costume question, however. Just what the heck is Twilight's costume supposed to represent? It is apparently some kind of animal, but I can't figure out what it is. A horse of some kind? And what's with that mane flapping in the breeze. Whatever the case, Twilight must have frequented the same haberdashery as Ted "Wildcat" Grant.
I also enjoyed the Twister story. It was a little different inasmuch as most superheroes of that era (and today) operated in big cities (mostly New York). Was the Twister a Florida superhero fulltime? (Last silly question of the letter, I promise). His powers were kind of neat, but he was very typical of the period in that for all his might he was brought down fairly easily by a few thugs.
Anyway, it was another GREAT isssue Bill. Thank you for all the enjoyment you've given me.

Mark

Well, Mark, I'm glad to hear that you enjoyed the issue as much as you did. I'll try to answer your questions as best I can. First up is the Black Owl. According to Greg Theakston in "The Complete Jack Kirby 1940-1041," the Black Owl's first costume was "a tuxedo topped off with what looked to be a Mexican wrestler's mask." When Kirby took over the strip in Prize Comics no. 7, his first step "was to revamp the character and outfit him in more fashionable super-hero tights." As for Twilight's costume, all I can tell you about its origin is that he found it in a costume shop during his first adventure. I'm not sure what it is supposed to represent. I own one other Twister story, and that one takes place in Washington, not Florida. Sorry I could not give you more definitive answers.

That's it for the letters page this month. Be sure to check back next month for three more great reprints!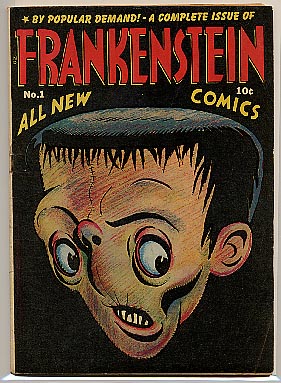 The first eight issues of PEC fan-favorite Frankenstein's solo book recently appeared on ebay. I will be running those covers in this spot for the next several issues. Here is the cover to issue no. 1.

Click to subscribe to Excitement Central
and receive notification by e-mail whenever this site is updated!