Pure Excitement Comics is maintained by Bill Nolan.
Vol. 1 No. 39
November 2001


In This Issue:

Contents Page

Black Owl

Twilight

Twister

Other issues!






Next Month:

Sub-Zero, Power Nelson, and Flamingo!






Bill Nolan's
Other Pages:

CD-ROMs!
CD-ROMs featuring more great reprints! Buy them, please! (They're cheap!)

The Gallery of Golden Age Heroes!
A closer look at some great Golden Age characters!

Prescription
for Excitement!
A look at
classic "in-house"
comic book ads.

Home Page

Custom Action
Figure Page

[Return to Main Page]






Related Links:

Golden Years
A great site also featuring great on-line Golden Age reprint magazines!

Mort Meskin
An interesting site focusing on the great Golden Age artist.

goldcomics.com
A fantastic site featuring MLJ reprints.

Heroic Comics
Another great source for Golden Age reprints! Includes stories from nine of the first 12 issues of that great title.

AC Comics
Publisher of Golden Age Men of Mystery and more. Now with a great on-line store!

Golden Agers
A great affiliate Yahoo Club where Golden Age fans can get together on-line.

Big Shot
A great site focusing on that particular Golden Age title.

The Spirit
A great site dedicated to what was probably the best comic feature of the Golden Age!

Other Golden Age Reprints
James Ludwig's great Golden Age reprint site!

The Golden Age Heroes Directory
A great page developing profiles on all Golden Age heroes!

A Guide To Marvel's Golden Age Characters
A rundown of some of the great characters I cannot feature here.

The Good Guys and Gals of the Golden Age Art Gallery
A great "who's who" of Golden Age heroes.

MicroComics
Offering affordable Golden Age comics on microfiche.

Comcs on CD-ROM
Offering Golden Age covers and stories on affordable CD-ROMS. Highly recommended!

Mikel Midnight Golden Age Directory
A great on-line resource for Golden Age fans. Great links.

Captain Comics
Home of the weekly comic book columnist for the Scripps Howard News Service




Welcome to the Letters Page, everybody! Hope you liked the start of my 11-issue run of "all-new" characters. Here are a couple of letters I received in response to the last issue:


Bill, I waited until the new issue came out to read both parts of the Boy King story, although I did read the Catman and Marvo story as soon as the last issue went up (enjoyed the Catman story very much and thought the second Marvo story was better than the first one you reprinted). The wait was worth it; Boy King is a much more interesting character than I would have imagined and the combined 30 pages of the two stories do read like an epic, which is sort of amazing considering that most modern comic writers need more than 30 pages to tell a single story or even an episode of a larger story (but then the golden age didn't have to worry about ongoing sub-plots and other modern storytelling wrinkles). I expected much more focus on the Boy King's giant than was given but the scenes featuring the giant were more effective because of the restrained use of the character; the Crane was also a memorable villain, and I was taken completely off-guard when he used one of his artificial expanding arms because I didn't know he could do that. Great story all in all, and the Cadet origin in the current issue was the cherry on top for this month (not that I have anything against kid gang stories).

Jon

Jon, I'm glad to hear my story selections are meeting with the approval of my readers! On an odder note, I have a later Boy King story which I'm not sure if you'd be interested in. It's a much shorter tale (only one issue) and the giant is nowhere to be found. However, Boy King does locate his long-lost brother, who is heading up a kid gang in Hell's Kitchen. No, I'm not making this up...

I had to drop a note to let you know that the latest Pure Excitement was one of your best yet. I really enjoyed part two of the Boy King. WOW. A giant, Nazis a robot dinosaur. Not to mention Boy King strapped to a buzzsaw (nothing like the classics I say). Plenty of action and a little romance at the last minute. I've read quite a few episodes of the Cadet but I was unaware he had an actual origin story. Another great one. The Comrades were okay, too.
Keep up the good work.

MrnatFred

Thanks for reading. I'm now even more glad that I hunted down that copy of Clue Comics no. 5. Without part 2, there was no way I could feature the Boy King story from Clue Comics no. 4.

That's it for the letters page this month. Be sure to check back next month for three more great reprints!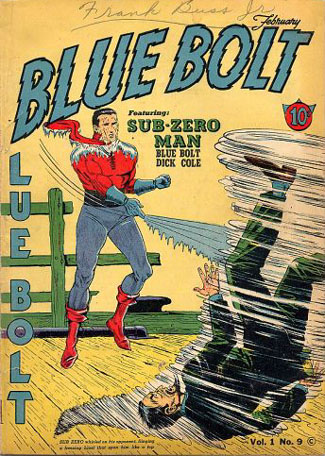 In the gallery this month is the cover of Blue Bolt Comics vol. 1 no. 9, featuring a rare Sub-Zero cover appearance. Sub-Zero will appear in the next issue of Pure Excitement Comics. This cover came from ebay, in case anyone cares.

Click to subscribe to Excitement Central
and receive notification by e-mail whenever this site is updated!